Pioneer Threshermans Association was established in 1962 in High Prairie, AB.
We are dedicated to preserving & presenting our historical culture for future generation.
This website, will showcase our museum, provide a guideline to all our activities and give you a taste of nostalgia.
We would love to welcome you and your family!
Monthly Meeting
Our monthly meeting will be every 1st Monday of the Month at 7:30pm in the Triangle Hall.
Please join us!
Help keep our local heritage alive for future generations to enjoy. Membership to our association is just $5.- per person. For more information, call (780) 523 7266 or e-mail: info@trianglehall.com
From October to May on the 3rd Saturday of every month 7:00 p.m-11:00 p.m we hold a music Jamboree at the Triangle hall. Next Jamboree is September 21, 2019
We have a long and rich history, starting in 1962 a group of people decided to focus their efforts on collecting old steam machines. This dedicated group gathered up so much antique equipment, that they needed a new location to store it all.
Land was donated to them at Triangle corner, and from this humble starting point they created the museum where other people could come and view this equipment and work together in restoring these pieces back to running order.
The association is the proud owner of a 1914 Case steam engine, not only is it rare to see, it has been fully restored to running condition. This is one of only two left in Western Canada.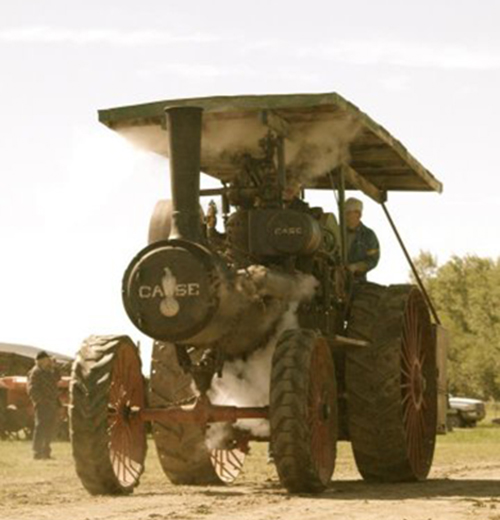 Love antique machinery?
So come see what we are all about
Since 1962
We have provided a community meeting place for 50 years, have celebrated Canada Day together for decades and danced together at the monthly jamborees. We hold regular flea markets, community suppers and entertain a number of other activities at this historic location. The facility is available for private functions and events.
Some of our museum artifacts are displayed on this website, however you will need to stop by and see the historic buildings, our church and extraordinary collection of antique farm equipment at our museum.